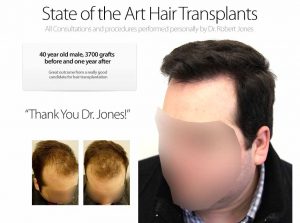 It takes a lot of planning and depth of experience to perform a procedure that provides patients with undetectable and very natural looking hair transplants. Your choice of the hair restoration center, quality of experience of the provider and team as well as the techniques used for extraction of the hair follicles so they are preserved well for the procedure is very essential for significant results.
Dr.Jones has mastered this art and performs the procedure with utmost care to provide you with a natural looking hairline and his case studies stand proof for the same. Dr. Jones uses his very own technique known as follicular unit micrografting. Using this technique, hairs are transplanted one by one, with a lot of attention and care provided to the exact placement and direction of each hair and very natural results are achieved. Research indicates that natural scalp hairs grow in smaller groups known as follicular units. In an effort to duplicate natural hair growth, Dr.Jones employs micro-technologies that use closely placed and randomly dispersed small numbered hair units. Dr.Jones goes a step ahead and refines these micro-technologies further to the point where even on close inspection, one can never say the difference between his patients' natural hairs vs the ones that were implanted.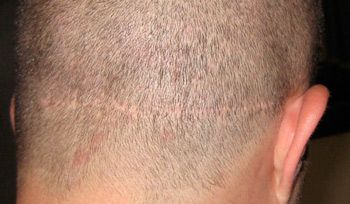 Look at these photos that reveal Dr.Jones expertise in providing unbelievably naturally looking hairline of his patients – you can see the significant coverage of the scarring from previous surgeries and the thicker and fuller hair growth in the latter patient, wherein you can never distinguish the hair that was implanted into the scalp from the natural hairs.
How is an undetectable hair transplants practically possible?
Procedure has to be led by a highly skilful and experienced surgeon with excellent training and understanding of the steps involved to give the best results.
The service provider should have the unique talent to blend the best of technology with creativity and artistry who will be capable of recreating a hairline using his or her best skills that will defy identification or detection of a transplant procedure that was performed on the scalp.
Ability to plan effectively to achieve excellent crown coverage by transplanting smaller sized grafts in large numbers.
Excellent familiarity with the natural shape of a hairline and hair growth patterns would enable the hair transplant surgeon to create a very natural looking hairline.
Schedule your first consultation with Dr.Jones today to achieve a naturally restored hairline! Your results will be so natural that your friends and family will never believe you underwent a hair transplant procedure!