Since starting his blog in 2008, Dr. Jones' has became one of the 'go to' sources for people interested in effective hair transplants, as well as, to see real life transformations in progress. Treating people for hair loss from all over North America, Dr. Jones has had countless memorable experiences in which he has helped men and women feel confident with new, invigorating hair re-growth. 2013 was a big year for him; with that being said, here are Dr. Jones greatest hits from last year.
Hair Restoration for a Master Hairstylist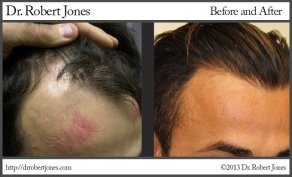 Al Shamas, owner and master hairstyle at Dolce Vita Medical Spa and Salon in Port Credit, came to Dr. Jones with a receding hairline. Because a nice hairline is essential in his industry, he was determined to have this corrected. Dr. Jones performed a FUE hair transplantation procedure which dramatically altered Mr. Shamas' hairline and greatly improved his self esteem. This is a great example of how a hairline can be restored for a more youthful appearance. It's a simple procedure and you can expect a dramatic result if this is the kind of hairline recession you're experiencing. It's one of our favorite kind of procedure here at Dr. Jones office.
3700 Grafts, 1 Year Post Op
In November 2012, a 42 year old male came to Dr. Jones with extensive hair loss on the top of his skull. After 3700 grafts, and one year later, he came back to our hair transplant office in Canada for a follow up. His new hair was full, healthy and strong; moreover, he couldn't be happier with the results!
Restoring the Hair of an Acid Burn Victim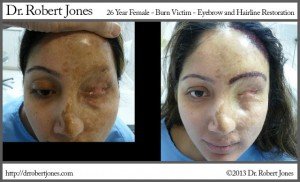 Dr. Jones is accustomed to treating victims of severe burns. Recently, he treated a 26 year old female who had unfortunately been a victim of an acid burn to the left side of her face. He immediately began the process of restoring her left eyebrow and left hairline. Her case is ongoing and will continue to be updated as she makes progress.
Rebuilding the Hairline and Eyebrows of a Burn Victim
An unfortunate electrical explosion left this individual with several areas of lost hair on the face and scalp. As one of Dr. Jones most inspiring cases, he continues to work with him to help restore the hair of the eyebrows, sideburns, hairline and scalp. This is one incredible story, which you will have to stay tuned for all of the progress updates.
FUE Hair Transplant on a Female
Between 10 and 20% of Dr.Jones patients are female. In one such case, a woman came to him in need of revitalizing thinning, balding hair on the top of the head. Dr. Jones performed a 1500 graft FUE hair transplant on the frontal forelock. During her one year follow up, she eagerly showed Dr. Jones how she was now able to pull her hair back into a ponytail.
The Discovery of a "Baldness Gene"
We'll have to end this greatest hits article with the revolutionary findings of a gene which can be linked to baldness. Thrilled at the findings, which were carried out by Rockefeller, Stanford and Columbia Universities, Dr. Jones wonders if this could help "end the search for a standard hair loss treatment".
So there you have it, Dr.Jones greatest hits of 2013. Of course, they don't end there because each day, he continues his innovative FUE hair loss treatment on people from all walks of life. With that being said, stay tuned, because we'll have a lot more amazing stories to share with you.