Are you in the market looking for a great hair transplantation provider?
Do you need to review a lot of honest information about the provider including the provider's reputation, his case studies, client testimonials, before and after pictures of clients showing the quality of the transplant? Here we are excited to present the state of the art website – Drrobertjones.com, which is packed with all the information you are looking for prior to selecting your hair transplant surgeon. See it to believe what we have to say! A peek into our website and you will be convinced that Dr.Jones is fully qualified to be your ideal hair loss solutions provider.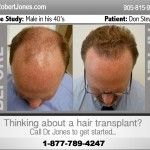 Results, Results and Results!
Our website is dedicated to showcasing results from patients who underwent hair loss treatment from Dr.Jones. We got complete case studies of patients, showing the patient timeline infographics. We also have before and after photographs of patients who have undergone 1000 grafts, 1500 grafts, 2000 graft surgeries and so on and the photos posted at periodic intervals so you get the clear idea about what to expect and when. We got patient results videos as well as hair loss treatment videos and lots of video interviews from Dr.Jones which serve as proof for the depth of knowledge and experience that Dr.Jones has in his chosen field.
Drrobertjones.com contains information about different hair transplant techniques – such as FUE, FUT, Price comparison differences between the procedures, robotic techniques etc., so our patients can make a well informed decision. We got a hair transplant FAQ section that would help answer most of your questions, if not all.
We have the authentic testimonials of our patients which reflect the ways that their lives have transitioned ever since they have had the transplant procedure done from Dr.Jones. From fixing a bad hair transplant, to changing the life of a burn victim and improving the self esteem and quality of our patients, Dr.Jones has the exposure to several cases as evident from the testimonials on the site.
You can also find information about the FUE training (with special focus on Dr.Jones technique) offered by Dr.Jones to other physicians on his site. Physicians all over the globe have benefited from the training and it is a 3 day intensive training for the physician and one of his assistants and is provided at Dr.Jones' facility. Check out photos of Dr.Jones with some of the physicians that he trained on the website!
Besides all of the above features, Dr.Jones also offers hair care products designed and developed by  him to his patients on the ecommerce store which is built into Drrobertjones.com website. From hair fibers to organic shampoos and conditioners, the store offers hair care products that are symbolic of high quality.