Dr.Jones is undoubtedly a pioneer in the field of hair transplantation, and his website has all the information that you are looking for to get a feel for Dr.Jones' expertise in his field. From detailed case studies wherein the patient's hairline is observed post-op and hair growth recorded at regular intervals, hair transplant FAQs, commonly asked questions about hair loss, authentic patient testimonials, patient videos and interviews by Dr.Jones, our website is a great source of information if you are interested in getting a hair transplant but unsure where to start.
In this article, we present some of the best cases that were handled by Dr.Jones, which have provided promising results to patients.
This is a video testimonial by a patient of Dr.Jones. The patient had a 3400 graft FUE procedure performed in March 2013 by Dr.Jones and his team. The video also shows a close up shot of the patient before March 2013 and you can see the significant visible difference before and after the procedure. The patient narrates that the entire procedure took about 11 hours to complete, with the patient feeling comfortable experiencing no discomfort or pain during the procedure. The patient then goes on to express his impressive feedback about Dr.Jones – about how the procedure performed by Dr.Jones exceeded his expectations and how he feels upbeat about recommending Dr.Jones to anyone who is considering a hair transplant.
Presented below are before and after photographs of a patient who underwent a 7600 grafts procedure with Dr.Jones.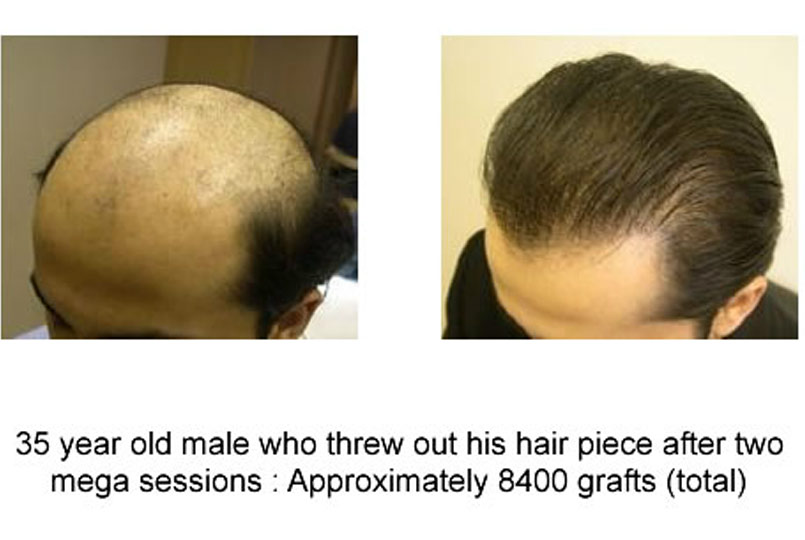 The before photograph clearly shows the patient's hair loss pattern – severe hair loss in the front with a thinning crown. The after photograph clearly shows the drastic transition with great coverage in the front, a naturally restored hairline presenting an overall improved appearance and hair style of the patient. A restored hairline can indeed make you look a lot better and younger.
https://torontohairtransplant.com/portfolio/7600-grafts-38-year-old-male/
This is yet another great case example handled by Dr.Jones. You got to see these before and after pictures to see how unbelievable the results are! In this 8400 grafts FUE procedure where the patient is a 35 year old male, the patient had severe hair loss affecting the front and the crown (male pattern baldness) and you can see that after two mega sessions were performed, the patient's hairline has been restored very naturally with excellent coverage and good density of hair.
For more interesting case studies and client testimonials, visit our state of the art website at https://torontohairtransplant.com