Presented here are pictures of a 26 year old female who is the tragic victim of an acid burn to left side of face. Dr Jones is in the process of restoring the left eyebrow and left hairline. As evident from the pictures, the left eyebrow as well as the left hairline looks a lot better post Op. This case will continue to be followed.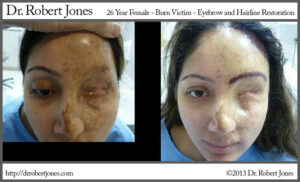 Did an accident or injury affect your hairline or destroy your eyebrow?
You don't have to suffer in silence anymore – Dr.Jones' Hair Transplant Center can help you. Contact us today with any questions you have and to schedule your first appointment with Dr.Jones.