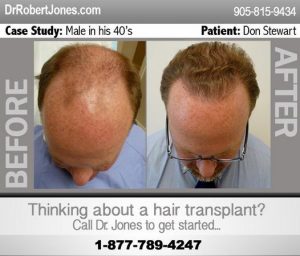 Here is an interesting case study of a patient in his 40s. When Don came to see Dr.Jones for his hair loss, his hair loss pattern consisted of baldness in the front as well as in the crown. Dr.Jones analyzed his hair loss pattern and suggested treatment with the FUE technique.
His first treatment took place on the 28th of July in the year 2008 wherein 3500 grafts were transplanted in his scalp.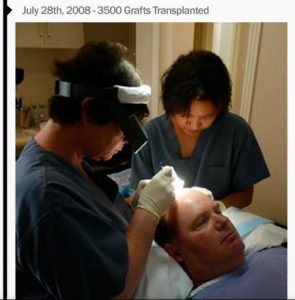 We then carefully observed and followed Don at regular intervals to assess hair growth after the procedure was performed. At 3 months Post-op, hair growth was visible on the scalp and at 4 months post-op, hair growth on the implanted areas was much more pronounced.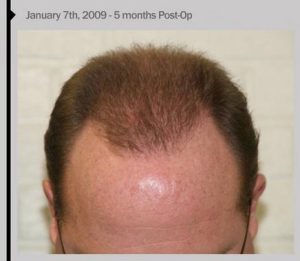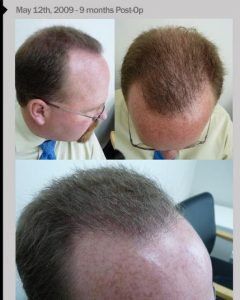 At 9 months post-up, a very drastic improvement of hairline was clearly observed! Look at these pictures revealing the natural looking hairline as well as the much improved density of hair on the scalp in the front as well as in the crown areas! This is yet another proof of Dr.Jones' efficiency in achieving excellent results from his FUE technique.
Yet another case study with very impressive results was the hair transplant performed by Dr.Jones on a patient named Nick.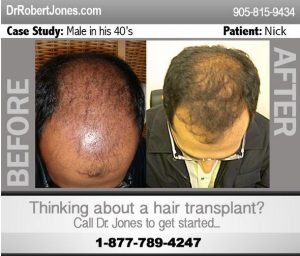 Nick's hair loss pattern was more focused on the front of the scalp with hair loss progressing to the crown as well. Dr.Jones performed 2500 graft hair restoration surgery on Nick on November 9th of 2006. Stunning results were achieved from the procedure – the patient had a completely restored hairline with significant hair density at around 8.5 months post-op and regained a much younger looking personality.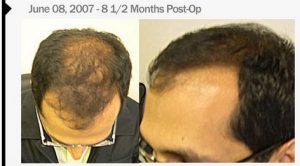 Here are some before and after photos of some patients of Dr.Jones – these speak volumes about the depth of experience that Dr.Jones has in his field and his remarkable efforts to achieve the best results.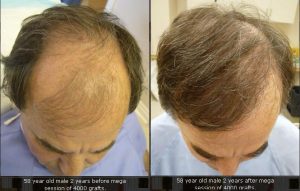 Dr.Jones has achieved good results even with males in their late 50s – see below the picture showing a 58 year old male before and after (2 years post-op) undergoing a session of 4000 grafts. The scalp looks a lot improved with no signs of baldness or hair thinning. Dr.Jones also specializes in FUE scar repairs.
For an entire gallery of hair restoration photos from Dr.Jones' FUE procedure, visit https://torontohairtransplant.com/galleries/hair-restoration-patient-photos/