This patient is a 31-year-old male who was concerned about some ongoing thinning in his frontal scalp. He wanted not only to restore the density he'd lost but also to ensure that he doesn't lose any more hair as he gets older. The basic shape and location of his hairline were great and he didn't want to change that. Instead, he just wanted to reverse the thinning that's already occurred to give him a fuller look.
We performed a 1520 graft FUE transplant limited to the frontal scalp. Single hair micrografts were used to strengthen the hairline, while bigger grafts were used behind that to add density and fullness.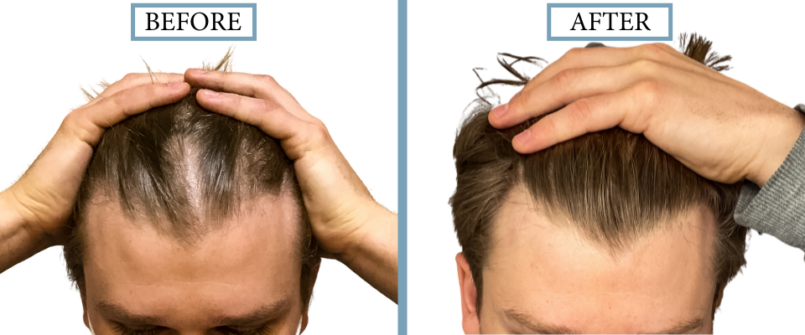 We also started him on a combined regimen of finasteride, compounded high-strength minoxidil, and laser cap therapy to prevent any further losses. Not everybody needs this kind of combined therapy but this patient wanted to do everything possible not to lose any more hair. We discussed his goals and came up with this regimen together. Using this combination, it is unlikely that he will lose any more hair.
About 10 months after his surgery this patient contacted us by email to replenish his supply of minoxidil, saying "I'm very happy with the transplant". He continues to use his hair loss therapies. We haven't had the chance to bring him back for his official post-op photos yet, but he did attach some pictures for us that he took himself at home. Even though it's only been 10 months, you can see the increased density in the frontal scalp and hairline. Whereas before he used to wear his hair down over his forehead to hide the thinning, he now proudly wears it up with more confidence. He might even achieve a little more density in the coming 2-5 months.