Neograft is a European developed Implantation Hair Transplant System used for follicular unit extraction (FUE). This system is the first and only Class One FDA Listed automated medical device for hair restoration. The company has employed technicians to perform every aspect of a hair transplant procedure, allowing physicians with no previous hair transplant experience to enter the hair restoration market.
Neograft versus Dr Jones's FUE technique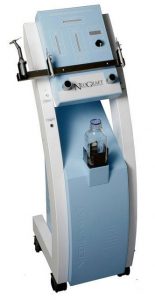 Are there any advantages to Neograft versus Dr Jones's FUE technique?  Great question. A doctor just starting to do hair restoration doesn't have photos or staff trained to perform this procedure. An easy way to immediately start is to purchase a Neograft machine, which provides him with staff, marketing and before and after photos, which enables him to immediately enter the marketplace providing hair transplant surgeries.
And what are the advantages of Dr Jones's technique?  Dr Jones has over 12 years of experience performing FUE. The technicians performing FUE hired by Neograft may have 3 months or at most a couple of years of experience doing the procedure. Your hair is a limited resource, so why risk destroying it with inexperienced technicians performing your procedure. Dr Jones's transection rates (destroyed grafts) are 2 to 3%. An inexperienced technician has transection rates of 10 or 12%, which means that valuable hair will be destroyed at clinics that offer Neograft.
If you are considering doing a hair restoration surgery by the FUE technique, make sure you know who is at the other end of the punch. Dr Jones and Dr Huber have more experience than any other doctors in Canada and as much experience as any doctors in the world.