What is Instant Hair?
Instant Hair is an all-natural hair loss solution. And let's face it, hair loss can be tough.
That's why the Toronto Hair Transplant Surgeons developed this widely popular and scientifically designed product.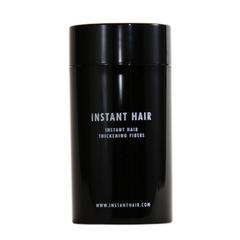 It's made of Keratin Protein Fibers that are easily applied by shaking the container over your thinning area, that bind to existing hair to give you a boost of coverage and thickness in less than a minute. The fibers are colour matched to your hair type, adding the best element of disguise. Charged with static electricity to stay in place, Instant Hair remains through strong winds and hard rain.
It's great for both men and women, and the transformation looks so real that the product fibers are virtually undetectable to the human eye.
We asked people who have purchased and used Instant Hair to send in some feedback – here are some of their thoughts:
"Unbelievable. I use it every day and wouldn't go out without it. Makes even my worst, weakest hair look completely full and perfectly natural. Not wind, not rain, nothing changes the appearance during the day. Rain actually makes it look thicker! When I go in for hair cuts I get a better hair cut because the hair is full and the barber gets a better idea of what he's cutting. Never once said a thing cause even he can't tell it's in the hair. Best thing ever happened to my life, period." – William M
"Instant hair is the only way I can leave my home without a baseball cap. I am a 46-year-old woman and have been suffering from hair loss for over 10 years. No one has ever noticed this product in my hair which is very comforting as I am very self-conscious of the thinning of my hair. Instant hair is a part of my daily life and I would recommend this product highly.." – Brant C
Feel younger, revitalized and more self-confident with Instant Hair.
For more information visit http://www.InstantHair.com