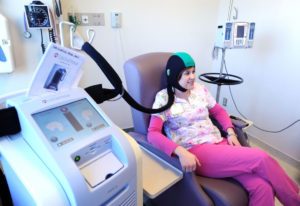 The Mount Sinai Health System (New York) has announced the launch of the DigniCap, which is a scalp cooling system. It has recently been cleared by the FDA to reduce the likelihood of chemotherapy-induced hair loss in women undergoing treatment for breast cancer. The DigniCap is now available in 3 of its cancer center location.
Mount Sinai is the first and only health system in New York to offer the Dignicap to its patients. In the FDA clinical trials performed in the United States, 7 out of 10 patients with early-stage breast cancer kept at least 50 percent of their hair.
The DigniCap, made by the Swedish company Dignitana AB, features a patented tight-fitting silicone cooling cap that is placed directly on the head and an outer neoprene cap, which insulates and secures the silicone cap. The cooling cap is connected to a cooling and control unit that operates through touch-screen prompts. A liquid coolant circulates throughout the silicone cap, delivering consistent and controlled cooling to all areas of the scalp. After the cap is fitted to the head, the temperature of the scalp is lowered, resulting in vasoconstriction, which reduces delivery of chemotherapy to the scalp. These factors together reduce the risk of hair loss.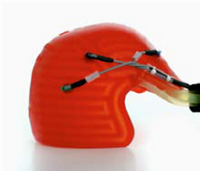 "We are extremely excited to be able to offer patients the Dignicap scalp cooling system during chemotherapy, which allows them to retain normalcy and privacy in their lives," said Paula Klein, MD, Associate Professor of Oncology and Hematology at the Icahn School of Medicine at Mount Sinai, who studied the Dignicap system as part of a multi-center clinical trial which eventually led to FDA clearance in December 2015. "Losing hair is one of the more distressing side effects of chemotherapy, and this is a game changer for so many patients."
"Time and time again, I have heard so many of my female patients with breast cancer tell me that hair loss was the worst part of their chemotherapy," said Charles Shapiro, MD, Director of Translational Breast Cancer and Research, and Director of Cancer Survivorship at The Tisch Cancer Institute. "But now there is a treatment to mitigate this side effect and help to improve a patient's experience during a very difficult time in their life."
"Mount Sinai was an important partner for Dignitana as we clinically tested the DigniCap system to ensure safety and efficacy," said Bill Cronin, CEO of Dignitana, Inc. "To be able now to offer women throughout the entire Mount Sinai system an alternative to chemotherapy-induced hair loss is a major step forward in our vision to make what for many is an emotionally traumatic side effect, a thing of the past."