While going through cycles of hair loss may be very tough and depressing for anyone, we will have to remember the fact that celebrities are no exception to being susceptible to hair loss owing to genetics and bad hair treatment choices. The real truth being celebrities are under a lot of pressure to present themselves in good shape and appearance at all times they are in public. Celebrities going through stressful periods is no surprise when dealing with hair loss issues.
Lebron James' Hairloss Story..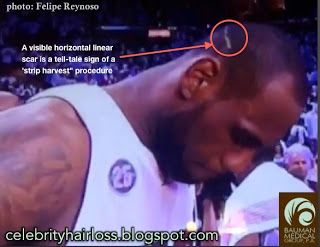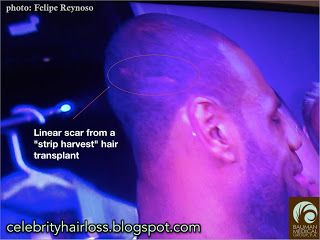 Image Courtesy: http://celebrityhairloss.blogspot.com
Miami Heat's Lebron James is a celebrity Sports icon who underwent Hair Transplantation to cope up with hair loss. Pictures here indicate the rare glimpse when Lebron was spotted on the court minus his usual headband cover. The pictures here indicate the prominent scar around the back of the head, clearly revealing the fact that he did undergo a strip harvesting method of hair transplant treatment.
Brendan Fraser's irresistible popularity in spite of a Receding Hairline…
Image Courtesy:http://www.thebaldtruth.com
'Mummy' fame Brendan Fraser, the hot and handsome heartthrob of many, uses a lace hair system in place to hide his balding hairline. His hair loss is attributed to a medical condition. He still does look super smart in all his movies. The bottom line is that his receding hairline has not impacted his popularity or his celebrity status among the masses.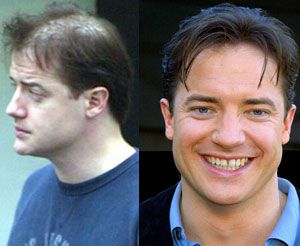 Joel's secret behind his youthful looks!
Apparently comedian Joel McHale must have been going through hair loss. Photos of the E! Network witty celebrity reveal signs of having undergone a hair transplant. His hairline looks awesome and for sure makes him look 10 years younger! It would do good for a lot of stars to model after Joel – after all, a great looking hairline is very crucial to keeping you look young and marketable, and always in the spotlight in the entertainment industry.
Most popular celebrity hairstyle?
A Recent survey on Facebook about who has the best celebrity hair got the most votes for Conan O' Brien. Celebrated American Journalist and host of AC-360, Anderson Cooper was voted second best in this survey.Cooper's hair is constantly in the news as it looks stunningly different and bold. Anderson does acknowledge that he has 'weird' looking hair! He is one of the lucky people who have showed no signs of hair loss.
Toronto Transplant Center is here to help anyone – a celebrity or a common man/woman with all types of hair loss issues. Hair Transplant Technology has improved over the years, making hair loss and balding issues no more than a personal choice. Contact our center today and see how we can help with getting started on your hair transplant!