While hair loss is primarily associated with genetics, factors like stress may also trigger it. Though there is no clinical evidence that proves beyond a doubt that stress can trigger hair loss, it is a widely accepted that there is a connection between the two. Research studies in mice have indicated that stress plays a role in some specific types of hair loss such as alopecia areata and telogen effluvium.
Of these hair loss types, telogen effluvium is a hair loss phenomenon that is linked with life's stressful and demanding situations such as healing from a major surgery, child birth, crash diets and drastic weight loss programs or emotionally stressful situations such as a death in the family. Typically with telogen effluvium, greater than usual hair loss occurs while shampooing, brushing, combing or styling your hair.
Real life examples? Kardashian.
Experts believe that Khloe Kardashian's hair loss can be attributed to the stressful divorce from her husband of four years, Lamar Odom. Fans noticed her stepping out with a visibly significant bald patch on her head which they believe was a result of all the divorce episode she was going through. It's a perfect example of telogen effluvium.
To read this story in detail, go to: https://radaronline.com/exclusives/2013/12/khloe-kardashian-hair-loss-stress-divorce-lamar-odom/
Can such kind of hair loss be reversed?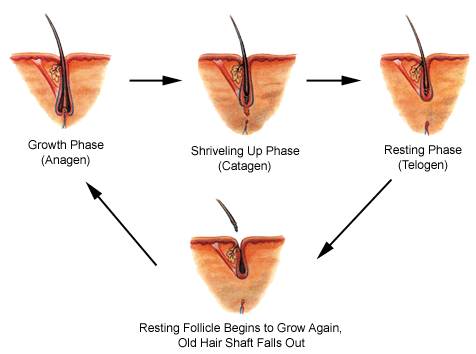 Thankfully, the answer is yes. Dr.Debra Jaliman, MD, author of 'Skin rules: Trade secrets from a top dermatologist' recommends treating this type of hair loss with injections of cortisone into the hair follicle. Dr.Jaliman believes that your hair follicles are attacked by the body during telogen effluvium and this could be reversed with the injections, along with taking Biotin and Rogaine. Jaliman adds that hair growth could be observed in about 1 to 3 months.
Other triggers that could result in telogen effluvium include crash dieting or massive weight loss, illnesses such as cancer that demands chemotherapy as a mode of treatment, side effect of some medications as well as abruptly stopping hormone pills. Whatever may be the trigger, hair loss need not have to daunt you for a lifetime. Get a medical diagnosis to get your hair loss or your baldness pattern examined. Make sure you check with your physician before taking any medications to reverse your hair loss.
Dr.Jones is the ultimate authority in hair transplantation and can provide you the best advice that you have been looking around for your hair loss and hair restorationoptions that suit best for you. Call us today to schedule an appointment with Dr.Jones!