If you keep up with the latest trends in the hair transplant industry then you've certainly have heard of the ARTAS Hair Restoration System.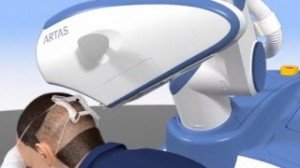 Whilst some key names in the industry recommend ARTAS and have started using the device in their own surgeries, there are also plenty who remain skeptical of such devices.
The two most common types of hair transplants carried out today are FUT and FUE. ARTAS was designed to assist with the latter procedure. FUE (Follicular Unit Extraction) hair transplants are a highly refined procedure where individual follicals are harvested from the sides and back of the patients head and transplanted to the recipient area. ARTAS is designed to automate the process of FUE.
ARTAS ADVANTAGES
Marketing – Doctors can now offer a new service without the rigorous training associated with dedicated hair transplant and FUE surgery. This allows dermatologists, plastic surgeons and even dentists to add hair transplants to their list of services.
Relief from Fatigue – The FUE process can be quite arduous and ARTAS can offer a good deal of relief for surgeons who decide to use it as part of their process.
ARTAS DISADVANTAGES
Cost – ARTAS is certainly not a cheap device. Costing around $250,000 plus a price per punch – it presents a big investment for clinics and it's not an unfounded concern that patients might have to bear the brunt of this investment in some way.
Limited Usage – ARTAS can only harvest hair from the back and sides of the head. Whilst this is OK for those with mild to moderate hair loss, there are many patients with more severe hair loss who require an expanded donor area, where ARTAS cannot be used. Also ARTAS can only be used on patients with straight, dark hair which does limit its usage considerably.
Risk of Scarring – ARTAS makes use of larger needles to extract the hair follicles compared to those used by surgeons when FUE is done manually. Because of this, there is an increased risk of damage occurring the surrounding donor area.
Overall, ARTAS does have some key advantages but the truth is that it's currently not a replacement for a highly-skilled hair transplant surgeon with years of experience. The process used by ARTAS is highly automated and does provide accuracy but there are certain subtleties that are lost because of this.
You can find out more about hair transplants and get expert advice on anything related to hair loss by visiting Dr Jones' website – https://torontohairtransplant.com/