To ensure you get the best results from your hair transplant, it's vital that you know exactly how to care for it in the weeks and months following your procedure. Proper aftercare will ensure that your scalp heals quickly and any chance of infection is greatly reduced.  Below are 5 great secrets to care for your hair transplant.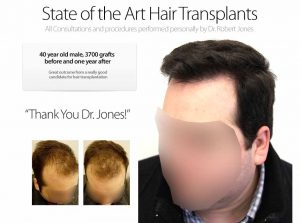 1. Keep Your Head Elevated as Much as Possible
After a hair transplant, the skin on your scalp will be fairly sore, so it's strongly recommended that you sleep with your head propped up to minimize any swelling that occurs. Whilst this might take a little bit of getting used to, it will ensure that the swelling subsides faster and you can get the best possible end results.
2. Avoid Any Strenuous Activities
To reduce the risk of infection, it's very important that you avoid sweating in the days following your hair transplant. This means avoiding the sun wherever possible as well as cutting out any strenuous activities or exercise. The same applies for steam rooms and saunas.
3. Clean Your Hair Regularly
You should keep your scalp and hair as clean as possible after your hair transplant to ensure optimum scalp health and reduce the chance of infection. You'll likely be given a special shampoo kit by Dr. Jones after the procedure, since you must take care not to scrub your scalp aggressively when shampooing.
4. Avoid Spicy Foods & Alcoholic Drinks
Take it slow after your hair transplant. Don't plan to attend a tradeshow or wedding the next day!  It's very important to avoid any spicy foods such as curries and pizzas in the weeks following your hair transplant since the body's reaction to these foods will negatively affect the healing process. It's also important to avoid alcohol since it will restrict the blood supply to the head.
5. Avoid Wearing Tight Hats
Immediately following a hair transplant, many guys first thought is – how can I cover up my head? This is understandable since your head is going to look quite red and swollen straight after the operation. Whilst it's OK to wear caps that sit on the top of your head, you should avoid any tight head wear such as baseball caps that would restrict the blood flow in your scalp.