This is an interesting Male FUE 2100 Graft case. The pictures presented below are those of the patient before and 11 Months Post-Op. You can visibly observe the substantially improved coverage on the hairline following the procedure. What is of particular interest, in this case, is that the 2100 FUE grafts were all concentrated on his hairline. That is to say, all the growth and coverage in the crown region is a result of the PRP treatments this particular patient has completed following the FUE procedure.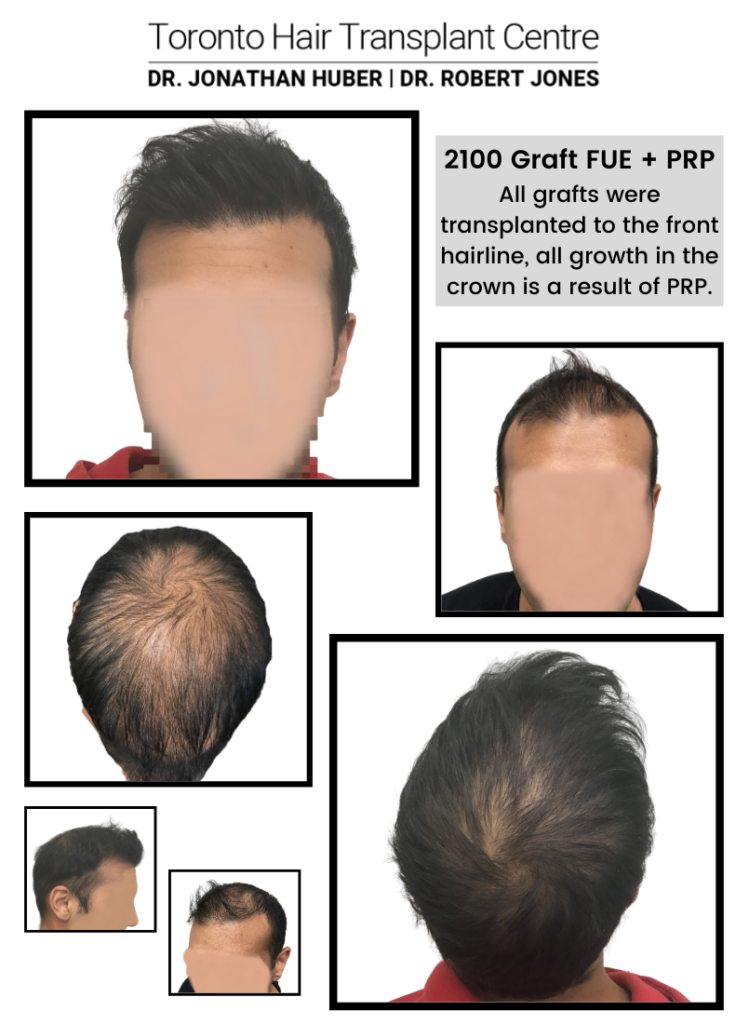 The fantastic results this patient has seen in his crown area is without a doubt a great testament to the powerful results you can achieve when using a combination of surgery and non-surgical treatments. Platelet Rich Plasma, or PRP, has been gaining popularity in the hair loss solutions industry for results just like this!
At the Toronto Hair Transplant Surgeons, we sometimes recommend a "PRP Soak" at the time of your hair transplant surgery as it may increase the viability of your grafts, speed healing, help reduce redness and decrease the possibility of "shock loss".
Want to learn more about PRP? Visit our PRP page HERE!
The Toronto Hair Transplant Surgeons has helped thousands of patients with a variety of hair loss issues and is 100% dedicated to hair loss solutions. Call our Toronto Hair Transplant Surgeons today to ask how we can help you. Book your free consultation appointment with one of our great doctors today!