What You Need to Know About Fue and Hair Grafts?
Hair transplants were being performed as far back as 1939 using single scalp hairs, and in the following decades, physicians developed and began to utilize the "plug" technique. As the practice evolved, it then became commonplace for doctors to use mini- and micro-grafts. Fast-forward and in 2020, the most commonly performed form of hair transplantation is Follicular Unit Excision (FUE).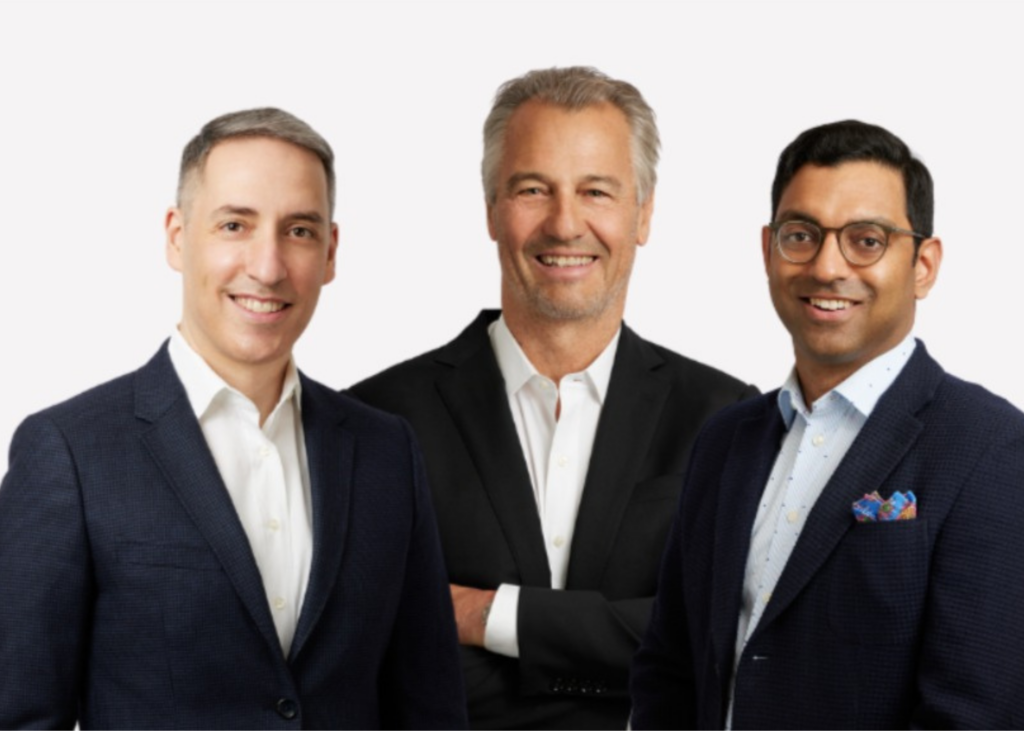 The Toronto Hair Transplant Centre is internationally known for our pioneering work in hair transplantation.
Let's start with – what is hair transplantation?
A hair transplant is a minimally invasive surgical procedure where circles of skin from the back of the scalp are excised as single units and implanted into the skin at the crown and hairline. Since hair loss starts in one region and eventually becomes apparent on other parts of the head, a hair transplant can be highly effective at addressing and reversing this loss.
How are hair transplants performed?
Hair transplants have come a long way in the last decade. Science and technology have brought some much welcomed improvements in both technique and results. At the Toronto Hair Transplant Centre, Dr. Huber, Dr. Alexander, and Dr. Jones are 100% focused on hair restoration and it's all we do at our clinic.
This singular focus is what has helped distinguish our doctors as the pre-eminent surgeons conducting hair transplant surgery in Canada.
Simply explained, a hair transplant is performed using hair you already have, it is extracted, and then transplanted to either your head or beard. In most cases, the hair used during the transplantation is extracted from the back of the head, but it can also be taken from other parts of your body.
Before starting a transplant, your surgeon sterilizes the area where the hair will be removed and numbs it with a local anesthetic. 
Hair transplant surgery is performed observing one of two methods:
FUE – Follicular Unit Excision (FUE) hair transplants are one of the two main procedures used today. With an FUE procedure, hair follicles are individually extracted from the back and side of the patient's head and individually transplanted to the recipient area (where the hair is thinning).
FUT – Follicular Unit Transplantation (FUT) differs from FUE in that the donor hair is extracted in a strip, rather than individually. Therefore, FUT is often referred to as a "strip procedure." Although both procedures are effective, FUT is more invasive and leaves a visible scar on the back of the head, meaning it is not always the best option for those who want to keep their hair short.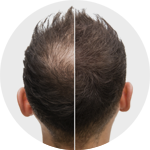 The Toronto Hair Transplant Centre is internationally known for our pioneering work in hair transplantation.
Our huge archive is here to help you see what we can do for you. Use the link below to view some sample cases.
Top 5 Benefits of FUE Hair Transplantation Surgery
Hair restoration can be a life-changing procedure for men and women who have felt embarrassed about their hair loss. Here are some of the advantages this surgery can bring:
1. Improved Looks and Self-Esteem
This type of procedure will provide you with the opportunity to feel proud of the way you look, maybe for the first time in several years. Many of our patients report that their hair loss has impacted their self-esteem, dating life, and general well-being. The majority of people who undergo hair restoration at the Toronto Hair Transplant Centre report a greater improved sense of self after their procedure.
2. Natural-Looking Results
Despite the rapid advancements in hair restoration technology, many people who are good candidates for a hair transplant avoid the procedure because they believe their results will look fake. In fact, surgeons have now perfected the craft to the point that when the results are final, no one will be able to detect that you had anything done.
3. Minimally Invasive
While hair transplantation is considered a surgical procedure, with FUE, there are no sutures, bandages or incisions to manage. It is a same-day procedure, and you can go back to work the next day if you so choose –although many patients take a day or two off to rest and recover.  Whichever path you decide to go down, you will do with minimal if any detection.
4. Permanent Results
The hair growing on the back and sides of your head is genetically programmed to be permanent. The hair retains this quality after getting transplanted to the top of the head, too. It will continue to grow on its own and no further hair transplantation will be required to maintain it.
During your procedure, your doctor here at the Toronto Hair Transplant Centre will transplant your grafts into the areas that were targetted for improvement. For the most part, you'll be able to carry on with your day following your procedure as you normally would, but, there is still a small window of healing required for your scalp.
During the first three months after your hair transplant you will probably see some hair fall, but don't be alarmed! It's entirely normal and part of the recovery process.
Once the restoration cycle has finished your transplanted follicles will begin to grow. This hair is permanent.
5. No More Wigs, Hats or Scarves
Once your hair grows in, you will be able to cut, wash, colour and style it in any manner you wish. You won't have to mask your hair loss with hats or wigs and can instead step out with full confidence in your healthy, growing head of hair.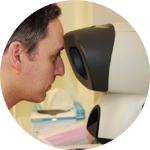 Familiarize yourself with our layout before you come in.
Visit the gallery to take a peek at our Oakville based clinic layout and surgical rooms.
Initial Consultation
During a patient's initial consultation, one of the most common questions asked of Dr Huber, Dr. Alexander, and Dr. Jones is: "How many hair grafts will I need to achieve naturally full hair?". To answer this question, certain factors are taken into consideration to ensure the patient gets the most out of their investment. These factors include:
The individual's degree of hair loss and donor supply, as well as their hair characteristics.
The number of possible procedures and time commitment.
The short-and long-term cost for the patient.
After the patient's initial consultation, Dr. Huber, Dr. Alexander, and Dr. Jones will be able to determine how many hair grafts will be needed in the affected area(s). Generally, the more hair that is lost, the more grafts you will need. These grafts could range from 1000 to 5000 or more.
Note: Dark, coarser hair may require fewer hair grafts to the cover the same area as compared to lighter coloured, fine hair. Individual consultation is the best way for Dr. Huber, Dr. Alexander, and Dr. Jones to establish a realistic number of hair grafts needed to cover thinning hair or baldness.
What can I expect with a 1000-2000 FUE Hair Graft?
FUE hair grafts under 2000 are generally done when there is not substantial hair loss in the patient. A low number of grafts are typically suitable for scenarios such as mildly receding hairlines, thinning hair or small patches of hair loss on the crown of the head.
The Toronto Hair Transplant Centre produces consistent, natural results and this number of grafts is great for repairing the hairline and for restoring early-stage hair loss. The newly transplanted hair begins to grow at around 10 to 20 weeks at a rate of 1 centimetre per month.
It is long enough to be groomed in about 6 months and, in most cases, will be fully grown in at one year. Once removed and grafted, hairs continue their life cycles on another part of the scalp, irrespective of age or hair colour.
What can I expect with a 2000-3500 FUE Hair Graft?
FUE hair grafts between 2000 and 3000 are appropriate when the patient has significant hair loss on the sides, front or middle scalp and crown of the head. This number of hair grafts is a normal amount needed to restore hair loss and achieve a natural look.
It is important the patient has realistic expectations as to what this surgery can achieve, and the primary goal should be to achieve a flattering and natural looking head of hair and to not over-harvest the donor area.
There are important factors to consider with an FUE surgery of 2000-3500 hair grafts, such as the age of the patient. For example, male pattern baldness advances over time and the older you are the greater the amount of hair loss.
Another important factor to consider is the texture of the patient's hair. Thick, coarse, curly hair tends to look more natural and covers the scalp better than fine hair. Plus, if the patient has thick, curly hair, the rate of coverage of the scalp will be double or even triple that of someone with thin hair.
If your hair is fine, you may need several FUE transplant sessions in order to completely cover your bald area. With the advances in technique and the expertise of a skilled surgeon, it is possible for 2,000 to 3,000 follicular units to be placed in a single FUE hair transplant session.
3500-5000  FUE Hair Grafts
FUE hair grafts above 3500 are suitable when the patient has large amounts of hair loss or complete baldness in certain areas on the head. At this point, patients are often are concerned about not being able to have their hair restored.
This larger number of grafts can mean that your surgery may have to be completed over the course of an entire day – or sometimes depending on the patient and time frames  – can be conducted in multiple smaller sessions. As with any FUE surgery, the quality and availability of suitable donor hair/follicles are of critical importance.
An experienced hair transplant specialist should be able to careful detail and plan for the best method and number of grafts to be excised in a surgery. When you are considering surgery of this type – be sure you are under the care of a qualified, medically trained surgeon. Damage caused by inexperience may inhibit your ability to seek additional treatment to repair the damage an unqualified surgeon may cause.
As recognized pioneers in FUE hair surgery, Dr. Huber, Dr. Alexander, and Dr. Jones are eminently qualified to provide the patient with outstanding results. The FUE hair transplant is a minimally evasive procedure and both our doctors remain confident in their abilities to promote new hair growth even in the most extreme cases.