INSTANT HAIR
We're marking Black Friday this year with a special ONLINE only offer! For 2 days only – Thursday, November 28th to Friday, November 29th – buy a 4-pack of Instant Hair Thickening Fibers and take and additional 20% off your order OR get 30% off your order of a single Instant Hair bottle at checkout!
What is Instant Hair?
The most popular of all of our products, Instant Hair gives the appearance of thicker hair by filling out your thinning area. It is the fastest and easiest solution to your hair thinning concerns. Simply apply by shaking the container of hair fibers over your thinning area. The product is easily removed with a simple hair washing. Made from keratin protein fibers charged with static electricity, Instant Hair Thickening Fibers stay in place even in strong winds and hard rain.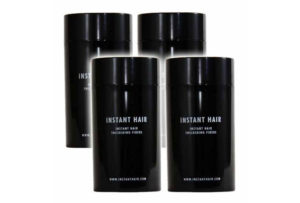 ~Available in 2 colours – Dark Brown or Light Brown for this exclusive Black Friday Special Offer~
ORDERS MUST BE PLACED ONLINE TO BE ELIGIBLE – TELEPHONE ORDERS WILL NOT BE ACCEPTED FOR THIS SALE.
Save 30% for single product orders using code "BLACKFRIDAY1" at checkout.
[button link="https://www.instanthair.com/discount/BLACKFRIDAY1?redirect=%2Fproducts%2Finstanthair#" color="black" newwindow="yes"] CLICK HERE TO BUY A SINGLE BOTTLE OF INSTANT HAIR[/button]
OR
Save an additional 20% off 4-pack orders using "BLACKFRIDAY4" at checkout.
[button link="https://www.instanthair.com/discount/BLACKFRIDAY4?redirect=%2Fproducts%2Fbuy-two-get-two-instant-hair-thickening-fiber" color="black" newwindow="yes"] CLICK HERE TO BUY A 4 PACK OF INSTANT HAIR[/button]
PRP STARTER PACK
We are also offering a special 20% Black Friday discount for Platelet Rich Plasma (PRP) Sessions. To qualify for this offer you must buy a starter 5-pack and pay in full. Starter packs include 4 PRP sessions and 1 Maintenance session.
To get this offer – you must call the Toronto Hair Transplant Surgeons during business hours on Thursday November 28th or Friday November 29th.  This offer is valid for new single starter pack purchases only. (THIS CANNOT BE ORDERED ONLINE)
What is PRP?
Platelet Rich Plasma, or PRP, is a high concentration of platelets contained in a small volume of plasma, from your own blood. Platelets are the components of your blood that release various growth factors that initiate your body's healing cascade.
Who uses PRP?
Almost anyone with hair thinning or hair loss can be a good candidate for PRP. For some, PRP is used in conjunction with other hair restoration modalities, such as medication or surgery, as a means of being more "aggressive" with treatment. PRP is especially useful for those who are not candidates for surgery or those who want to try non-surgical approaches before considering surgery.
Want to learn more about PRP and it's benefits? CLICK HERE to visit our PRP page!
THIS SPECIAL BLACK FRIDAY OFFER WILL ONLY BE AVAILABLE BY PHONE DURING BUSINESS HOURS ON THURSDAY NOVEMBER 28th AND FRIDAY NOVEMBER 29th!
BUSINESS HOURS: 9 am – 5 pm              CALL US NOW AT #1-877-789-4247
** OFFER VALID FOR PRP STARTER PACKS – STARTER PACK INCLUDES 4 PRP SESSIONS PLUS 1 MAINTENANCE SESSION. OFFER VALID FOR SINGLE NEW PACKAGE PURCHASES ONLY AND MUST BE PAID IN FULL TO BE ELIGIBLE FOR THE 20% DISCOUNT. **